Home
>>
Products
>>
DVR
>>
D1 DVR
>> HK-S2204F, HK-S2208F, HK-S2216F
H.264 standalone D1 DVR
Model #: HK-S2204F, HK-S2208F, HK-S2216F



Features
H.264 compression algorithm ideal for standalone DVR
Support Multi-language: English, Italian, Turkish, Russian, French, Portuguese, Spanish, Polish, Hebrew, Thai, Traditional Chinese, Japanese.
New standard for professional DVR with high performance and competitive price.
Support Mobilephone Surveillance with Symbian , Windows CE,Iphone , Google Android
Realtime live display up to 4/8/16 camera with 720P high definition.
1,2,4,8,16 channel simultaneous realtime playback
Support CIF realtime recording, support HD1,D1 non realtime.
Dual encoding streams flexible for network transmission and mobile phone monitoring.
Multiple function: Live, Recording, Playback, Backup & Remote access.
Smart video detection: motion detection, camera blank, video loss.
Powerful network software:built-in web server, multi-DVR client, MSS(mobile phone surveillance software) & CMS.
Supports SATA HDD (maximal value of each hard disk is up to 2TB)
Support Wireless 3G USB Modem.


Specifications
Model No.
HK-S2204F
HK-S2208F
HK-S2216F
Compression Format
H.264 / G.711
Operation System
Embedded LINUX
Main Processor
High-performance embedded microcontroller
Control Mode
Front panel, USB mouse, IR remote control, Keyboard, Network
System Resources
Pentaplex function: live, recording, playback, backup & remote access
Video Input
BNC x 4, 1.0VP-P,75O
BNC x 8, 1.0VP-P,75O
BNC x 16, 1.0VP-P,75O
Video Output
1 TV, BNC(1.0Vp-p, 75Ω), 1 VGA
Video Standards
PAL(100f/s); NTSC(120f/s)
PAL(200f/s); NTSC(240f/s)
PAL(400f/s); NTSC(480f/s)
Video Resolution
D1/4CIF(704*576/704*480), HD1(704*288/640*240), CIF(352*288/352*240)
Main Stream Record Speed
CIF:(1-25/30f/s); HD1:(1-12/15f/s); D1:(1-5f/s/ch)
CIF(1-25/30f/s); HD1(1-12/15f/s); D1(1-5f/s/ch)
CIF(1-25/30f/s/ch)
Extra Stream Speed
QCIF(1~25/30fps)
Video Image Quality
Super Best, Well, Good, Medium, Normal and bad
Recording Mode
Manual / Timer / Motion
Audio Input/Output
4 audio input, 1 audio output (RCA)
4 audio input, 1 audio output
Hard Disk Storage
1 * SATA HDD (capacity up to 2TB)
2 *SATA HDD
Alarm Input/Output
4 alarm input,1alarm output
Multiplex Operation
Live display / record / playback / backup / network operations
Playback mode
Multiple slow and rapid play speeds, manual and single-frame play modes,and support positioning the time by driving the sliding bar
Backup Device
USB 2.0 flash drive / USB moving Hard disk / Network
Pre-alarm Recording
recording for 5 seconds before alarming
Network Protocol
TCP/IP, PPPOE and DDNS
Ethernet
10/100 Base-T. Supports remote control and live view via Ethernet
Web Interface
Internet Explorer (5 users access simultaneously)
Operating System: Windows Vista / XP / 2000
VGA Interface
Built-in
IR Remote Control
YES (IR receiver built-in)
Video Loss Detection
Yes
Video Adjustable
Hue / Saturation / Contrast / Brightness
PTZ Control
Yes
USB Mouse
Yes
Power Source
12V DC(±10%)
Key Lock
Yes(Password Protection)
System Recovery
System auto recovery after power failure
Dimension
1U, 315mm(W)x52mm(H)x224mm(D)
2U, 440mmx460mmx89mm
Working Temperature
-10 ~ +55°C
Working Humidity
10%- 90%
Weight
3.0KG(No HDD)
Connections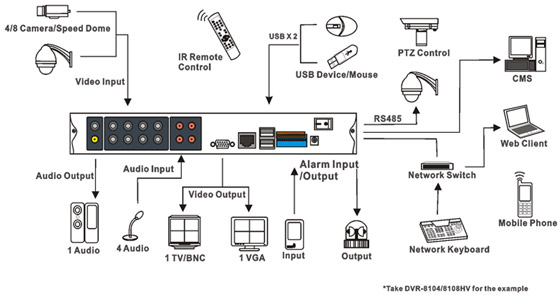 Application
DVS real host,super-network functions,Support IE browser centralized monitoring and CMS Software for multiple DVR from diferent place (up to 64 DVR view per screen) simultaneously, per screen can monitoring and playback from multiple DVR images, thorough solve most of the DVR can only manage a single DVR,as well as monitoring and playback can not be a problem at the same time.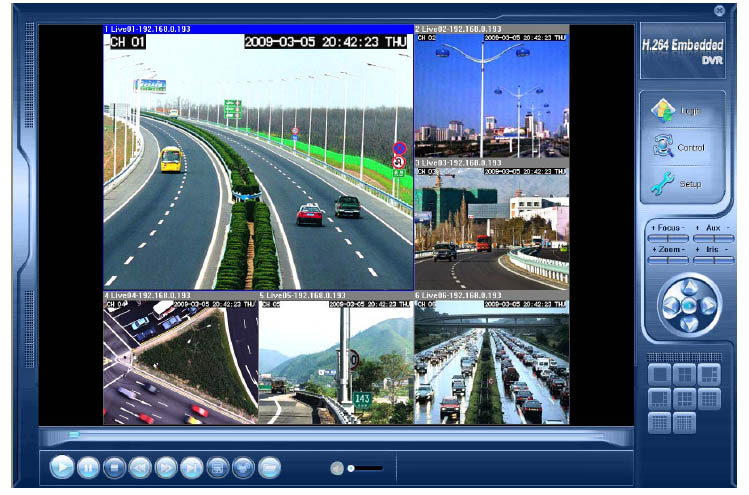 CMS software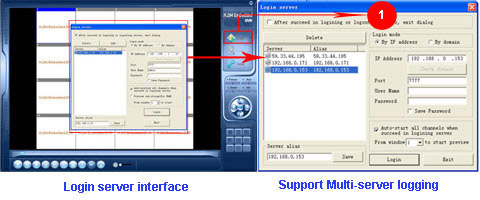 Login
Two logging modes are provided: by IP address and by domain.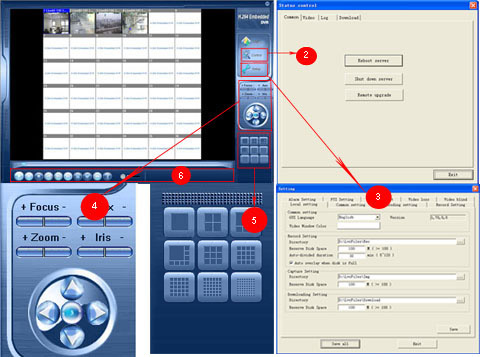 Control
COMMON: Reboot server, shutdown server, remote upgrade.
VIDEO: remotely adjust the video frequency, brightness, chromaticity, contrast and saturation degree to the best visual effect
LOG: The user can check the logs in the hard disk on the DVR
DOWNLOAD: remotely download files from the hard disk on the DVR,and save them locally for backup or play.


Setup
Common setup, coding setup, visual recording setup, alarm setting, cradle head setup, movement monitoring, video loss, and shielding alarm


PTZ Control
ZOOM, FOCUS, IRIS, PANT, TITL


Window browsing mode
switching: single windows, 4 windows, 6 windwos, 8 windows, 9 windows 16 windows,32 windows and 64 windows


Toolbar
Start, pause, Stop, Slow Play, Fast Play Single Frame, Screenshot, Video Recording, Playbak, Volume Control, Total time for file playing.



Software / User's Manual Download

KingCCTV HK-S2204F/S2108F Standalone DVR Manual(1,637KB)


Mobile Manual for KingCCTV HK-S2204F/S2108F Standalone DVR(957KB)


CMS Software for Standalone DVR HK-S2204F/S2108F(1,011KB)